Dev Software & Services Pvt. Ltd. Quality processes to FOCUS on Deliver The Best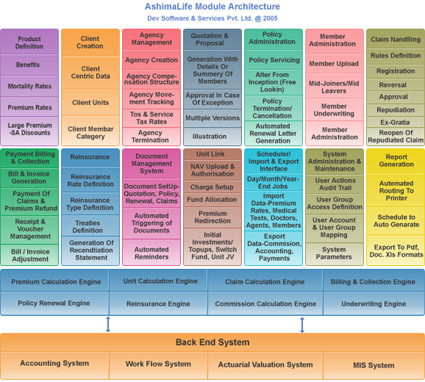 The system helps manage the full cycle of activities from quotations, through new business, underwriting, member servicing, agency servicing, reinsurance, claims and receipts, withdrawals, accounting, up to the Trial Balance.
The system has the capability of configuring products as a unit link product. The common member administration and accounting processes allows you to administer all schemes of a Client Group across all lines of business, to cross-sell products and to lower administrative costs. Overall, GIS is a powerful and flexible solution that can be quickly adapted to your business requirements.
Insurance companies offer multiple products with combination of riders, which are traditionally sold by individual advisors. The solution offered by Dev Software & Services Pvt. Ltd. is very easy to use with just point and click single form interface.
All rules like age, premium, sum assured, term, premium paying term, expense, mortality rate, return on saving portion, surrender value, loan value and IRDA limits are intuitively handled.
Solution helps the insurance companies in capturing the details of the new business acquired by the various channels.
The solution also generates the key performance reports for the complete hierarchy to help management in taking business critical decisions.